General:
Cote d'Ivoire gained independence from France August 7, 1960. Governmentally, the country is divided into 31 administrative regions though it was 19 when we arrived. Located in the Greenwich Mean Time zone, Cote d'Ivoire is 4-5 hours ahead of the U.S. Eastern Standard Time Zone, depending on daylight savings.
Natural resources sold for income include petroleum, natural gas, diamonds, manganese, iron ore, cobalt, bauxite (for aluminum), copper, gold, nickel, tantalum (for light bulbs, capacitors), silica sand, clay, cocoa beans (for chocolate), coffee, palm oil, and hydroelectric power.
Population & Education:
The 2007 estimated population exceeds 18,000,000. The people are of more than 60 ethnic groups and languages, some of which cross the borders. More than 60% live near the sandy coast. Apart from the region around Yamoussoukro, the interior is comparatively sparsely populated (as is the USA). The regions of intense non-Christian belief that influence religious culture and values are mostly in the interior.
About half the population is more than 15 years old, and can read and write. French secularism currently guides the Ivorian education system.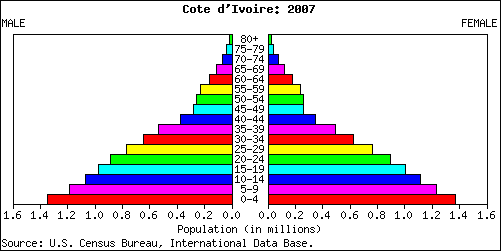 More than 40% of the population is 14 years old or younger (USA = 20%); only 56% are between 15 and 64 years old (USA = 67%). 3% of those living are older than 65 (USA = 13%). In other words, more than 50% of the population is less than 20 years of age. Talk about Youth Ministry potential! Education remains a large open door here to lead change toward or away from God. Currently, Christian missionaries can openly teach the Gospel in public schools.
Every year, per 1000 of population, 35 people are added while 14 die (USA = 14+, 8-). Using the '07 population of 18,000,000, this means that around 630,000 souls are added every year while another 252,000 enter eternity.
Life & Health:
Nationwide, the life expectancy is 49 years; 46 for men and 51 for women (USA = 78; 75M, 81W). Northern regions show numbers nearer 40 years. Infant mortality per 1000 live births is 87 (USA = 6). But these statistics are gross estimates as the last decade has been one of civil conflict and minimally reported HIV/AIDS impact. For instance, the official figures for HIV/AIDS adult prevalence is 7% (USA=0.6%), but anecdotal reports, evidences, and local measures indicate a far, far greater impact, both in northern regions under and apart from government control. Loving care and prevention accompanied by Christian living and discipleship in the community offers hope to the majority who will die absent from the life-giving presence of Christ.
There is high risk of contracting infectious disease while living in the country. Food or water born disease like bacterial diarrhea, hepatitis A, and typhoid fever are common. Pest carried diseases like malaria and yellow fever are everywhere, while other problems like Buruli ulcers and elephantiasis remain regional. For the few who know of the infestations, infections like schistosomiasis and the resurgent Guinea worm can spoil the thought of taking a dip in or getting water from the local swimming hole. But since most people don't know, they bear the effects in their bodies and often blame some known or unknown spirit.
Existing Works: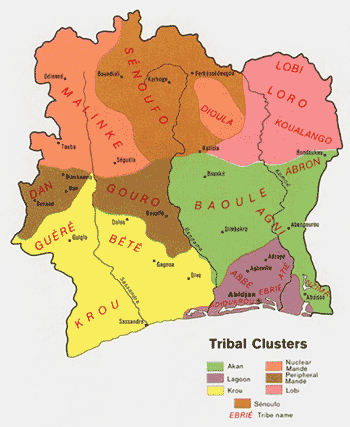 42% of the population are from Akan people groups, like the Koulango speaking Abron, who guide our churches in mid-eastern CI. 18% are Voltic or Gur peoples like the Lobi and the Koulango, who mostly occupy our churches of north-eastern CI. Other people groups include the Northern Mande peoples making 16% of the population, Southern Mande another 10%, and the Krous who are 11% of the total population. The nearly 3% remaining include 130,000 Lebanese and a remainder of 14,000 French (there were over 22,000 French in 2000).
To date, Free Will Baptists have successfully planted churches among the Lobi and Abron peoples. In the process, we've touched people groups like the Loron, Birifor, Senufo and others without establishing churches. Some missionaries worked to establish work among the Agni, and another began an effort to reaching the Jula, but great resistance to the Gospel presentation led to our having no sustained church planting effort among them. While Koulango speaking peoples have been targeted by Free Will Baptists, recent research indicates that the majority of believers in our churches speaking the Koulango language are Abron, not Koulango.
For more cultural information on the Lobi and Koulango, the following reports (in Microsoft Word format) have been created with material from AMI (Action Missionnaire Interafricaine): Lobi Report, Koulango Report.
WEC, SIM, the Nazarenes, the CMA, the Methodists, New Tribes Mission, SIL & Wycliffe, Conservative Baptists, Independent Baptists, and Southern Baptists have all worked in Cote d'Ivoire, but are mostly absent now. You can check statistics for all the people groups in Cote d'Ivoire (and the rest of the world) by visiting the Joshua Project site.
Work to be done: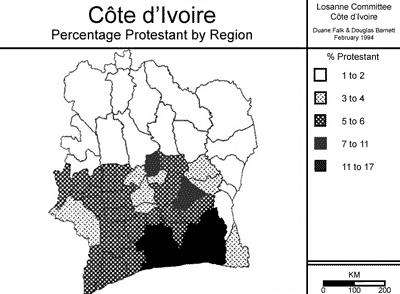 As of 2001, 35% to 40% of the Ivorian population identified themselves as Muslim; 20% to 30% identified themselves as Christian, most meaning Roman Catholic. Another 25% to 40% of the people identified themselves as practicing traditional or indigenous religions. Essentially, even the majority of Muslims and the majority of professing Christians practice some aspect of traditional animistic religion when life gets tough. The Lord is far from being the Rock for all but a few Christian believers. Even the most verbal supporters of Jesus often turn to voodoo practices when life confuses or tests them.
Of the 19 administrative regions the country is divided into, only 3 have active Free Will Baptist works. Of the remaining 16 regions, 10 have been somewhat reached by other missions organizations. That leaves 6 regions without a sizeable or credible witness to Christ.
Most works here expand along ethnic and family ties. As a result, FWB missionaries live among, but rarely speak to, many of the least reached groups living in Cote d'Ivoire today. To effectively give them a chance to hear and understand the Gospel, these peoples must be specifically targeted. Peoples in this predicament include the Jula, Maninka, Wolof, Hausa, Fulani, Senufo, and Kulango peoples. Some were targeted by other missions in the decade just prior to the now finishing civil conflict. However, those missions have withdrawn and have even sold all their properties. By their own admission, none currently have plans to resume their works in Cote d'Ivoire.
Economic:
Cote d'Ivoire 's economy runs on coffee, cocoa, and palm oil. Personal incomes are very sensitive to international price fluctuations for these products. Since the government gets its money for operation from sales of cocoa, commodity pricing also controls the state's ability to develop the country. These challenges open the doors for church planting missionary activities that touch management of God's creation to increase yields or offer new industries
In 2005, most exports went to France (18.3%), the U.S.A. (14.1%), the Netherlands (11%), Nigeria (8%), and Panama (4.4%). Witnesses coming from these countries have the greatest chance of finding a support network.
While 80,000 km of road exist, less than 9% are paved, and they often poorly so. Of the 73,500 km remaining, 20,000 km are in poor condition and another 15,000 km are considered impassable. Most of our churches are off such roads. Repair and transport costs are high to any engaging in ministry here. Where cars once traveled in the early years of our mission's presence, most often today the only vehicles daring to travel such routes are 4x4s, pick-up trucks, UPS truck like vans, buses, and tractor-trailer trucks due to government changes.